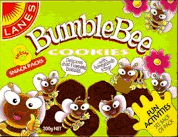 It's a tough biscuit world out there and occasionally, in spite of extraordinary attributes, a new biscuit can lose steam before it finds it's rightful devoted fan base. One such biscuit, for whom this is looking like the tragic probability, is the Bumble Bee. Made by a niche food company called Lanes the Bumble Bee can be found on a dwindling number of supermarket shelves, here in Australia. They are made here and as far as I know, they may not exist anywhere else in the world. Though still listed in the Lanes' website along with their sibling, the less enticing 'Spookie', it's getting much harder to bag a box of them. There is certainly a lurking fear over here amongst the hard core following that humanity is set to lose this species forever. My speculation is that Lanes have made a pitching error in their marketing. Although excitingly boxed with a fun activity on the back, this is a strategy designed to appeal to children. It seems to me that mostly adults are likely to (after a couple of experiences) come back to the bumble bee time and time again and that mum or dad are not so inclined to pay for a 'premium' bikkie for the kids.

The Bumble Bee is an all-rounder in terms of taste, beautifully balanced sweetness and texture. It has a surprisingly steep satiation gradient - many people only need the two.

Essentially it's a baked chocolate base with a smooth but firmly textured layer of honeycomb flavoured chocolate on one side. A startling concept but one that makes itself at home without delay. It has a cute and very high definition graphic of a delightfully cheerful bee on one side and an endearingly fuzzy version of the same thing on the non-icing side. They are cleverly Pentagonal in shape, like a honeycomb cell, and they come in individually wrapped 'twins'. Chocolate sides facing, they can be easily prized apart with very mild force. I suspect that you might think this arrangement ostentatious or pretentious, but I find that it adds to the special Bumble Bee experience. It might be a big call but I would go as far as to say that, in my experience, the conceptual crafting of the BB is without peer.

Full credit goes to my Mum for introducing these to me. She not only prizes them highly but also meters them out with astonishingly careful planning. When high level consumers are around (such as husband or young children) she has been known to slip a sachet of them surreptitiously into a favoured guest's hand with the mug of coffee as if doing a drug deal. Needless to say she keeps the box out of harms way - often secreting it in the disused fuel stove as a measure against ruthless late-night husband-related biscuit frenzies.