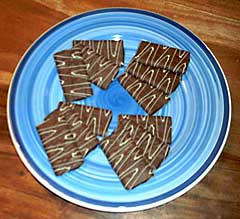 It was 9:57, and last orders had been called at the Somerfield's on Gloucester Road, Bristol. With just seconds to go, my mind flittered to and fro, earnestly scanning the aisles for a late evening treat. Savoury or sweet? Sweet or savoury? Swavoury? Saveet?

What initially caught my eye was actually an end-rack displaying the previously reviewed Choco Leibniz...until I strayed so very slightly sideways to a box I'd not been introduced to before now.

The logo lettering reminded me of the house number plaque, gracing the front of the domicile I had left but moments before; Frenchesque, sophisticated, but not bullish or showy. I don't care to look like some nouveau riche vulgarian.

The biscuits were removed as I waited for the Wittard's Decaffeinated Breakfast Tea to infuse, and I arranged them on a plate, anticipating review potential. I noted that the description of them in Dutch read "Buttercookies with milkchocolate", and in English, the grander "Butter biscuits enrobed in fine Belgian chocolate". I don't know if this means we get a better product than the one they serve to their domestic market, or that the naturally wary and hard-to-please British biscuit market needs to be charmed with greater finesse.

They are rather thin, with a mid-brown chocolate covering that allows the biscuit's outer texture to show through. A white chocolate Pollocking accents the top nicely.

Eventually the tea was ready, and I took a bite. If you were to imagine the essence of a brandy snap, but translated into biscuit form, with the attendant loss of snap and gain of crumble, you'd not be far off the mark. The high (7%) butter content, along with the sugar, gives for a slightly nutty taste, rich, but not overpoweringly so. I was taken slightly aback that my palette did not bolt before the fence of my appetite, if you'll excuse the flowery metaphor. I was reminded in no small part by the Dime bar, now almost a fashion accessory after Ikea introduced many of the Daim stable to our shores.

In short, I'd like to think the Virtuoso could go some way to banishing the poor image by bolstering the ranks of the growing number of Belgian biscuits that have met with smile-facedapproval (see also Lotus Caramelised Biscuits, 14th October 2002).