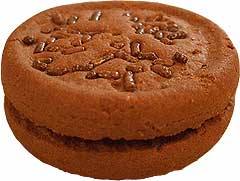 I've never been to Morocco, nor indeed Brazil, but into my possession via a work colleague came these curiously and almost military-named biscuits. He bought them in Morocco whilst on holiday and by using the primary evidence at hand (it was written on the pack), I deduced that the product started it's life in Brazil.

Also on the pack, handily translated, the Brigadeiro is described as a "Cookie with Brigadeiro Type Filling". Hmmm, not so helpful to the non-Brazilian layman, so onto the worldwide interweb I went and discovered that a Brigadeiro is "Brazilian Chocolate Fudge Candy". Not only that, but it is a candy named after Brigadeiro Eduardo Gomes, a 1920's Brazilian politican who once helped quash a coup in Rio. At the same time the ladies of Rio had created a new candy, and Gomes, being a damn handsome chap had the honour of having it named after his rank. See this web page for more details (and a recipe). So what we are looking at is a sandwich style biscuit, filled with this chocolate fudge candy mix and finished off with what appears to be a traditional topping of chocolate sprinkles.

Distributed in a pack of three, you may notice from the pictures that they do not appear to be too similar to the image portrayed on the wrapper. A pawltry number of chocolate sprinkles and a cream filling not even remotely troubling the edges of it's biscuit surroundings.

Ok, enough background, what are they like, that's the important bit. Well, the first thing that strikes you as the packet is opened is the smell. It is sweet to the point of being sickly. Take a bite and it crosses that point with ease and really tastes like eating pure cane sugar with the ever so slightest hint of chocolate flavour. You begin to realise why they come in packs of three. Any more would bring about a sugar induced vegetative state; well vomiting at least. A quick check of the ingredients shows that in the top five are no less than three sugar related components. "Sugar", "Invert sugar" and the fantastically named "Confectioner Sugar Flavor Chocolate". This might explain it.

Hang on, this is all a bit negative. There has to be something good to shout about with this biscuit, let's not tar it with the pink wafer and oreo brush. I'm happy to say there is. Where the Brigadeiro does come up trumps is in the contrast of textures. The crispyness of the chocolate sprinkles, followed by the rich crunch of biscuit ending with a soft cream centre really works. If the sweetness was toned down a bit well, a lot, then this would be a damn fine biscuit from our South American friends. You're good at Footy, time to sort out your biscuits, sharpish.