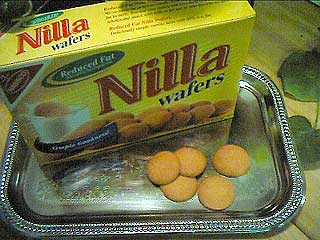 Hello there all you British-type people, just thought you might like some more correspondence from your cousins accross the pond here in America. First off I'll apologise for the recent political blunder.. Sorry!

I grew up in New Zealand, so I know a good cup of tea when I see one, and the same goes for biscuits to dunk in them too. I know they have been mentioned before by a one Steve in Minnesota, but I think the Nilla Wafer by Nabisco deserves more of a reveiw.

The Nilla Wafer can best be described as a small, round, shortbread-style biscuit. They are quite crisp and light, and have a hint of vannilla flavor. They are officially my favorite dunking biscuit, as they do not crumble easily or leave an oil slick on the top of your tea like a real shortbread, and they aren't overly sweet so as not to detract from the taste of your Earl Grey. Also, unlike many biscuits, they are omni-dunkable! They are equally good in any of the beverages I've experemented with, e.g: Tea, Coffee, Milo, Milk (Low-fat and regular). These omni-dunking super bicuits are perfect for any occasion, and as Steve of Minnesota mentioned they have other skills like the ability to be crumbled up and made into chessecake bases also! 9/10 in my book!