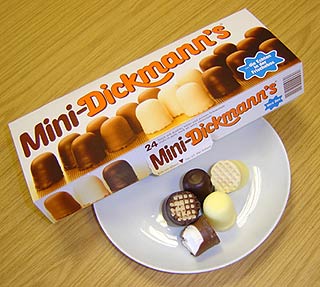 Imagine our shear joy and heartfelt glee at receiving these little numbers from a colleagues recent trip to visit her parents in Germany at Christmas! Not only have we enjoyed them (as they were indeed an explosion of oral delight!) but... we finally have something to submit to your wondrous website that all of us here in the office at Talisman regularly chortle away at when the boss is out to lunch! (shout out to Christina, who introduced us to you and a big consumer of all types of biccies, Anita von Potter, whose German parents they are, Sarah, a big gallonous tea drinker, Terry 'Bailey' for the kind piccy and moi, Jacqui, also a big comsumer of biccies (and any foodstuffs actually!)

Now... you may at first feel that our entry does not quite qualify as a 'biscuit' due to it's novelty chocolate appearance and creamy marshmallowy filling, HOWEVER on closer inspection you will see that the base of these mini dickmanns is indeed a wafer type affair that supports the whole construction. We therefore feel it is worthy of a mention. They come in plain, milk and white chocolate and presumably if these are the 'mini' dickmanns then somewhere out there perhaps there are some 'gross' dickmanns
Please can somone let us know...
PS. News just in from von Potter - apparently there are 'super' dickmanns but she couldn't get them on the plane!