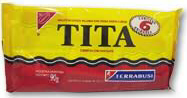 The magnificent presentation of the Alfajor Havanna - a marvel I had never encountered - on your pages served only to reinforce my admiration for things South American. You name it, Borges, Marques, Allende, the whole magical realism thing; and then, what do you know but an Argentine friend sent me some without my even asking. Now that's magical realism. But what my friend also sent, accompanying the alfajores, were some 'Tita' biscuits.

Where the alfajores are lush and decadent, the Tita is a comparatively dainty, refined morsel. Like the Alfajores, each 'galletita' is indvidually wrapped in foil, though in this case there is a further paper sleeve around that with the characteristic wavy line design. It is about two inches square, which I know is hardly diminutive, and half an inch thick. It is covered in a thin but perfectly balanced 'baņo de reposteria', which is essentially a bittersweet chocolate enrobement. Hidden within (but not perfectly - just revealing itself in little tempting glimpses) is a sandwich arrangement, the middle of which is a light lemon cream.

The texture of the actual biscuit is perfect - a fine crunch, and not too sugary, with just a hint of lemon. The cream filling, likewise, hits the mark precisely - none of your brash yellow 'I'm a lemon cream, you know' sort of stuff, more a 'there you go, nice and easy, and by the way here's a subtle citrus tang on the way down'. All of which serves beautifully to offset the chocolate covering.

So that's it: a heavenly biscuit, which deserves a place in the pantheon of delectable nibbles.