It's the year end and we thought it would be nice to round out 2007 with some biscuits that we can all go out buy in the UK, as opposed to something exotic from foreign shores. Having said that these are those French biscuits we mentioned a while back in our news section LU's re-branded range of classics for the UK market, Encore, which includes their flagship Petit Ecolier. And seeing that team NCOTAASD has spent quite a bit of time in France this year we thought we would bring you a few highlights of our exploits in the land of the Petit Beurre in the manner of a special festive season BOTW.

Encore is one of my favourite French words since I discovered fairly early on in my adult dealings with France that uttering it causes French people to go away and return with another one of what ever it was you just finished. This came as a revelation as I was only expecting to use it at the end of a theatrical performance, which I desired to see again. Not very likely given the division of our time between tent, supermarket and bar. So it's nice that LU have chosen this as their brand name. In France they do have a biscuit called 'Hello!' which I always have trouble with. Its evident desire to start a conversation seems a bit pushy, and so you'll understand why I have studiously avoided till now. Perhaps if they changed its name to the noise you make when clearing your throat I'd be tempted, although I'm not sure how to write that down.

So let's take a look at those two Petit Ecoliers, a Dark chocolate and a Milk chocolate. Last time we reviewed the Petit Ecolier I have to say it got a bit of a roasting. You might want to skip back to that earlier review to find out who the strange looking individual is embossed into the chocolate. This time LU have made quite a lot of changes to the biscuit which I have to say all seem for the better. Chocolate and biscuit seem wedded this time round rather than the much more casual relationship they pursued in the past. The biscuit is now an all butter affair with 14.5% of it by weight and in lighter and more open textured resulting it what appears to be a taller biscuit. With a nod to LU's own French stylings the Milk Chocolate pack has pale blue accents, which is LU visual language for milk chocolate, just as green means cheese and onion and blue salt and vinegar. Unless you happen to be Walkers crisps who seem to want to fly in face of good sense and logic and have it the other way round. If the House of Lords can debate whether sliced bread is becoming too thick as they did a couple of weeks back how come this one has slipped under their radar.

So if you like your choccy biscuits and their chocolate to be on the upmarket side you will definitely appreciate these. With their magic number of 48% chocolate by weight (the same as in Bahlsen's Choco Liebniz and PickUp) and with 70% cocoa solids in the case of the dark chocolate, you might manage to spoil yourself with only a couple of them.

Talking of upmarket we had our regular autumn strike mission to France in November staying for a couple of nights in the seaside playground of second or third home owning Parisians, Le Touquet. Most of Le Touquet's streets are set in pine forest. These are lined with wide grassy verges and white railing fences behind which long gravel drives lead to sprawling thatched white washed mansions. We were amused by the signs at the end of the roads informing us that picnics were forbidden. Of course this was like a red rag to a bull, given that we had our thermos flask in our ruck sacks, some pate baguettes, half a Camembert and a quantity of French biscuits. Luckily for the French and us the weather intervened before we could find out at which point casual roadside nibbling escalates into a picnic.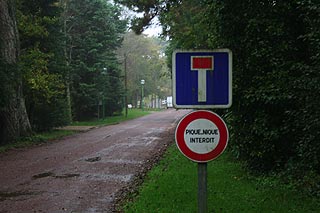 We also found the local French water did quite a spectacular job of resisting being made into tea, producing some of the most revolting and scum laden cuppas I can remember. I also attribute this to the fact that we had to boil the water in a stainless steel saucepan, which refused to absorb its share of the calcium salts unlike the trusty NCOTAASD Tefal kettle, which may well find itself taking a short break abroad in future.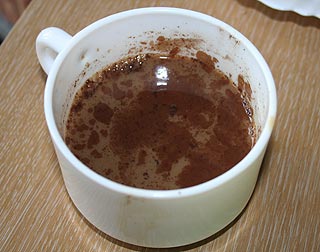 Tearing ourselves away from such fascinating topics we shall briefly cast an eye over the next offerings in the Encore range, re-branded LU Pims, which are of course French Jaffa cakes. I think wisely the flavours offered have been reigned in from the full range which naturally includes Orange to just Raspberry and Cherry. Pims have a distinctive chocolate top which looks like it has been stamped with an old fashioned wax letter seal. The bonus to this a thicker chocolate shell to support all that shenanigans, which causes a Pims to crackle noticably in the mouth. Of particular note on the raspberry Pims was the inclusion of raspberry pulp and puree which conferred a slight and authentic pippy finish. Quite alarming, however, is the pack description as Belgian Chocolate Sponge Biscuits. Are they trying to undermine McVities landmark ruling?
And so to our best French cake of the year, a tricky title to steal given the sheer number of our sorties into the massed Patisseries of France. However the clear winner was home made for us by our favourite French lady ever Mdm Moulinier, who has a lovely farm in deepest Perigord. We visited there back in August on a our own marathon tour de France, after spending a week in the Alps.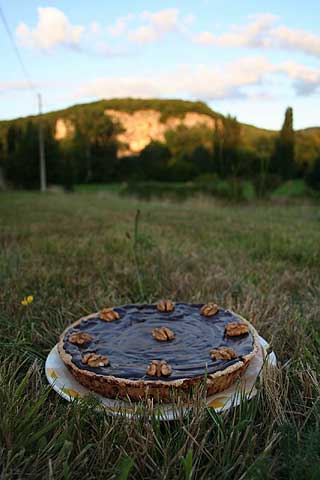 It's difficult to express using clumsy words how calming spending a few nights camped in a wildflower meadow under the shade of walnut trees can be. Having last visited Mdm Moulinier before the YMOS joined the ranks, we were delighted to find her well and in her usual generous way we were instructed that we would be receiving a Tarte aux Noix. Rather like a big walnut based Macaroon it is fashioned from fresh farm eggs and walnuts from the grove in which we were camping. This one was topped off with some dark chocolate and walnut halves. Each one is its own unique creation, no two ever having the exactly the same texture, which can range from slightly chewy to this year's quite crunchy. I suspect that at 86 Mdm Moulinier is using the electric whisk now to beat the eggs.
All this loveliness brings out the painter in me and I spend a good proportion of my time at Mdm Mouliniers paint brush in hand trying hard not to muddle up my jam jar of water with my enamel mug of tea. Both of which can find itself used for either purpose depending on my concentration.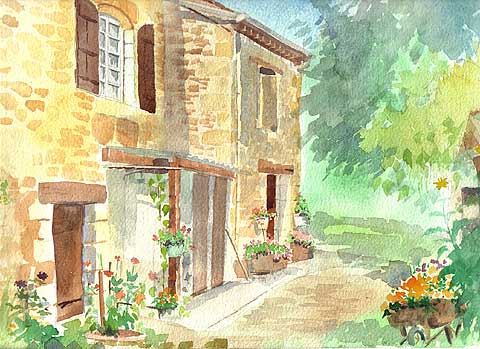 The final biscuit in the Encore range at present is a diminutive crisp dark chocolate coated biscuit affair with pieces of cocoa bean baked in. At this point I will concede that a small black coffee is going to more at home with these. Also for no doubt the same reasons I'm unable to claim any knowledge of its European counterpart.
As a parting shot LU has also added its Barquettes as a complementary range called Petit LU aimed at the YMOS. Re-named fruit scoops to aid our understanding these are small boat shaped sponges filled with fruit jam. It's amazing that such a simple and tasty little item has taken this long to make it to our supermarket.
We'll certainly be keeping an eye on this range with interest as it shows real intent and insight on LUs part in offering UK biscuit fans something a bit different.