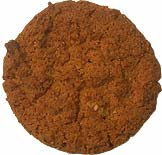 We couldn't miss the opportunity to review ANZAC biscuits on the 25th April, ANZAC day. Dating back to 1915 the ANZAC biscuit is the stuff of national pride and tradition for both Australians and New Zealanders, whose forefathers ate them in the trenches during the Gallipoli campaign of WW1.

Now its a bit of a tricky beast to pin down. There are several explanations for how the biscuit came to be, from soldiers making simple biscuits from their rations in the trenches, to a sort of military specification super hard biscuit able to withstand global trips, to housewives back in Oz and NZ making them as part of the war effort. I suspect that all explanations are true, and certainly account for the differing types of ANZAC biscuit. The military one was a square of hard unyielding floury stuff, with either 9 or 15 holes depending on who you believe. The second sort was much more the sort of thing you would want to find in a parcel from overseas, and is the type we are reviewing here.

Unibic bake their ANZACs in Reservoir Victoria, Australia, and proudly display that for each pack sold they donate 6c to Australian veterans. The more popular ANZAC recipe includes flour, oats and desiccated coconut in equal proportions as well as butter sugar and golden syrup. This results in a wholesome and high roughage biscuit which many Australians insist have toe nail clippings and the like in, although it seems both unlikely and futile to attempt increase its fibre content. Unibic seem to have tinkered a little bit with tradition to make their ANZAC a bit sweeter than those baked in war time, and probably a bit less abrasive. Also the coconut doesn't intrude as it so easily can. The pack has stirring stuff on it like "Even today we should never lose sight of the purpose of these biscuits, because we should never lose sight of the real meaning of ANZAC".

We have greatly enjoyed tucking into our ANZACs this week, they certainly hark back to a simpler age of biscuit eating, and definitely taste home baked. We just wish that the in-fighting amongst the Aussies and Kiwis about who really invented the ANZAC and who really makes the proper ones will not be directed our way after this review. In the interests of fairness friends who have recently returned from a trip to NZ told us that particularly liked the ANZAC biscuits they ate there.

Thanks to Simon Smith for shipping the ANZACs to us.