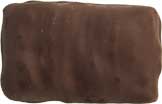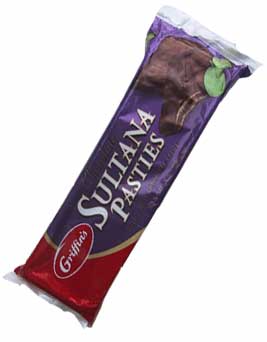 We are grateful to Fraser of blogjam for providing this week's review biscuits all the way from New Zealand. Now New Zealand is known for a great many things - rugby, lamb, mountains (hang on is this Wales again?), parrot based fauna that eat your windscreen wipers (oh no that doesn't sound like Wales), its indigenous Maori culture, making Lord of the Rings, we could go on and on - but not for its biscuits.

So it was with a certain amount of raw excitement that we opened our review packet of Griffin's Sultana Pasties. Declaring themselves to be exotic and covered in dark chocolate we were, however, instantly attracted by the name noun 'pasties', which is not something you would normally associate with biscuits. So what is the agenda for these antipodean treats? Well, small biscuit pockets filled with moist sultanas and covered in dark chocolate just about sums them up. At roughly 53 mm by 30mm these guys are quite diminutive, and there are sixteen to a pack, so it would be quite possible for two people to see the pack off comfortably.

All in all I was put in mind of a fusion between chocolate raisins and garibaldi biscuits, and this would probably be a simulation that you could try should you be unable to get hold of these rare southern hemisphere treats.