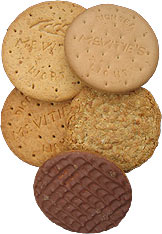 We often get asked by people which biscuits, if any, can they eat knowing that they are good for you. Of course we have to let down these residents of lu-lu-la-la land gently by reminding them what biscuits are made of. Yummy and delicious come at a price. Yes when you take sugar, fat and flour and some sundry other things you can make delicious biscuits, but it's hardly the profile of a health food. However, if enjoyed in moderation as part of a lifestyle which features regular exercise then for most people that's just fine. Across the broad spectrum of biscuits and related snacks out there, there are going to be all sorts of variations in fat and sugar content. However, a brief glance at our biscuit poll will tell you what most people are eating, and by reformulating these biscuits McVities are helping people to choose a slightly healthier biscuit.

The McVities Light range are 25% fat reduced versions of HobNobs, Digestives, Chocolate Digestives and Rich Tea. I suppose that this is a much better way of expressing it than 'Eat 4 biscuits instead of 3' which is missing the point. Not only is less fat used but its better fat. As we keep saying the hydrogenated fat, the mainstay of the biscuit world till recently has gone. This really is a huge achievement by McVities, and I think they have now ironed out early teething problems with the recipes.

Right I'm going to get unashamedly technical now. The fat content of a biscuit plays a crucial role in both texture and flavour. Certain flavours dissolve into the fat and are carried to the palette most notably the vanilla sort of flavours. As for texture, this really was the main reason for the hydrogenated fat of old. The saturated fat from animals, such as lard and butter are solid at room temperature but melt at body temperature. Bake a biscuit with them and you'll have something with a good snap and short texture softens in the mouth.

Vegetable fats are by and large unsaturated fats which are liquids at room temperature, hence we call them oils. Hydrogenation is an industrial process which chemically alters the fat molecules turning them from an unsaturated fat into a saturated one, something called hardening. Obviously a way to make cheap lard substitutes, but because it's an industrial process the exact melting profile of the resulting fat and therefore the biscuit texture could be finely controlled. The very real problem with all of this was the fact that the process also created exotic fats that wouldn't be found in our natural diet called trans-fats, whose molecules were a different shape to the ones our bodies' chemistry had evolved to deal with. Unfortunately it's not just the fats themselves which harden but also the arteries of those consuming more than the body can cope with.

The responsible parts of the food industry have begun to eliminate the trans-fats from their products and McVities have been quietly leading the way in the mass market biscuit section of the UK market. So has it all been worth it, or have these leaner and undeniably healthier biscuits sacrificed taste along with their dodgy lipids?

Well as far as the Digestive goes, we can all sing hosannah. To my personal taste this is one of the best digestives in a long time. The fat reduction has given the Digestive a real crunch and bite, which I would happily defend against all comers, as being a good thing. The taste is also a bit brighter than before having notes of hard baked crumble topping about it. For those who have also lamented the other healthy revolution of salt reduction in the Digestive, then the reduction in fat will make your tongue think the clock has turned back. I would cheerfully choose this Digestive over its conventional brethren.

As for its chocolate version one gets the sense that we are spectators at the chocolate festival and have been dragged up on stage for five minutes, rather than full time performers. Amazing the difference between the standard 29% chocolate and 24% found here. Also chocolate is one of those flavours which is carried to the tongue by fat, so maybe the explanation is to be found here. Still the I've certainly tasted full fat Chocolate digestives that weren't a patch on this one, so I think you'll find you can quickly make the required adjustment.

Now to the Hobnob. The 25% fat reduced Hobnob is essentially a different biscuit. Here are some of the things that are different, taste, texture and colour. Given all of that we might as well treat it as a new biscuit which slots into the sweet oat bit of the biscuit aisle. I actually liked it, but that's probably no surprise to regulars of the site who know that I enjoy anything with oats in. With oats and wholemeal stepping in to make up the percentages, an earthy wholesome taste and hard bite leave us in no doubt that this is a lean Hobnob. Even the colour seems a bit paler and less golden. However, as I said I like that oaty diversity, and I think that some of you will either like these or possibly run shrieking back to the originals.

As for the rich tea, well they tasted like rich tea. If anybody wants to add to that be my guest.