Suffolk cycle Tea Tour
A NiceCupOfTeaAndASitDown special report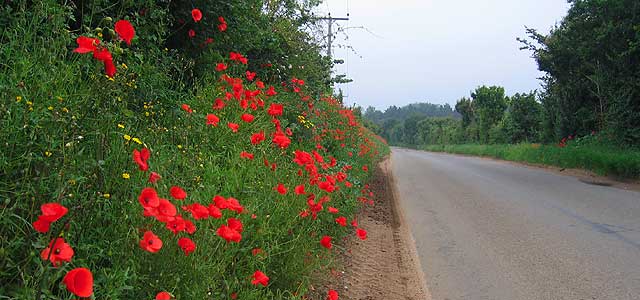 For Wifey's birthday treat she unilaterally decided that cycle camping in Suffolk was the required action, knowing full well that I was just waiting for the green light on such an undertaking. Cake made, tea makings organised, bikes tuned up and tent packed we headed off to Felixstowe by train.
Having picked out a delightfully straight forward and tranquil campsite, it turned out that our route coincided with the way marked Suffolk Coastal Cycle Route. Our ordinance survey map languished as we followed green signs with little yellow bicycles on all the way up the Suffolk coast.
Nice Bowl of Tea and a Sit Down
Oh dear, all the intricate planning and somebody forgot to pack the mugs. I should have realised as that distinctive clunking sound made by enamel mugs had been entirely absent since we began our journey.
Despite dire predictions for the weather we so far had been cycling through the gorgeous lanes in hot hazy sunshine. The hedgerows were overflowing with wild flowers and decked out with honeysuckle and elderflower whose scents were heavy in the sultry air. Here and there a field of poppies had seemingly spilled out on to the lane and as we passed by barer fields of onions and beet we could spot the pheasants, lapwings and hares going about their business.
The Butley creek passenger ferry runs from May to September at weekends and bank holidays. Crossing the small creek at Butley would have shaved six miles off of our journey, but being a random Tuesday afternoon in June we didn't hold out much hope. However, when combined with the fact that it was Wifey's birthday, we had two large slices of Chocolate Birthday cake, and tea was overdue we decided to make the detour.

Thinking as we reached the end of the gravel lane that snaked out across the marshes that we had arrived at somebody's farm, we took heart when a nice lady on a horse told us that we were indeed on the right track. She told us to head across the field to the sea wall, where it was particularly lovely today. I said we were off to brew up tea and eat chocolate cake and she seemed suitably envious.

The tea facilities are my 25 year old Trangia stove. Swedish designed it burns methylated spirit and unlike most other camping stoves is very stable and actually relishes a good stiff breeze. Any amount of assurances, pre-expedition dry runs could not quite relieve Wifey's fear that it might not function. Two bowls of tea using all the water we had left in drinking bottles did the trick.

As we sat there gazing across to the jetty on the opposite bank a mere 50 meters away a small boat drew up alongside a larger craft moored a little way down stream which we took to be the off duty ferry. Two men boarded her and began to tinker. If we hadn't just refuelled I'm sure we would have wandered down there and seen if they could arrange a special one off crossing. As it was we felt suitably invigorated and retraced our route back to the 'main' road.
Behold the Fruitcake
We had arrived at High House fruit farm our home for the next two nights, erected the micro-NCOTAASD HQ and dragged a couple of large logs from the nearby woodpile for sit downs. As we were the only campers there we had the pick of entire paddock situated at the back of the farm. Finding ourselves surrounded by orchards and other soft fruits it seemed appropriate to produce our fruitcake. Time for the second tea and cake incident of the day.
After careful negotiations with the rest of team NCOTAASD back at base we decided to cleave the fruit cake in two and take our half wrapped in a bit of foil. Knowing that I was about to maul it about with my pen knife I decided to photograph it in its just unwrapped glory.

This time I filled the Trangia up with a litre of water and throttled her up all they way. Within minutes we had two steaming hot bowls of tea and two generous slices of fruitcake. Wifey was already growing quite fond of the old stove and tea made to my old Venture Scouting recipe, which goes:

As the water comes vigourously to the boil remove the lid and hurl in a tea bag. Remove the pan still clad in its hot outer wind shield, cover it again the frying pan and leave it to brew. Use the fully closed simmer cap to extinguish the flame and save any unused fuel. A couple of stirs with the trusty teaspoon that lives inside the Trangia and it's ready for the milk. When lightweight camping I always bring dried semi-skimmed milk, it's so much easier and makes a really acceptable cup of tea. Whip out the teabag and sprinkle a heaped teaspoon of milk over and immediately stir it in. There you are.

The Trangia packs away like a set of Russian dolls. The wind shield forms the outer, inside which sits the base which is perforated to allow the air to feed the burner. Inside that are two pans and the burner and the handle. The whole lot gets covered by the frying pan/lid which I upgraded to a non-stick, allowing for trouble free bacon and eggs.
That evening we cycled the mile and a half into nearby Orford, and being seafood fans threw ourselves into the exceedingly capable hands of the Butley Orford Oysterage. This simple and unpretentious restaurant's menu is powered by its own oyster-bed and smoke house. In full birthday mode we ordered up their smoked fish and oyster hors d'oeuvres, half a dozen extra oysters and a bottle of Pouilly Fumé. The oysters were vast, dwarfing even those from Clew Bay on the West Coast of Ireland, the previous holders of the Nicey and Wifey 'that's the biggest oyster I've ever seen' award, and being from the estuary were much less salty than others we've had. The smoked fish was in its own league, and we had trout, mackerel, salmon and cod roe (from which they make their own taramasalata), and their own pickled roll mop herrings. At this point we really should have left as the oysters had really filled us up. None the less we carried on through griddled sardines and squid. If this has worked you up into a sea-food frenzy then you might like to know that you can buy online from their website.
The local owls decided to spend much of the night swooping over the tent and indulging in a great deal of recreational hooting in the tree above our heads. We were initially thrilled, but by 2:30am the thrill was wearing off. Eventually we slept and next morning as the fruit pickers arrived for gooseberry duty we breakfasted heartily on bacon, eggs, orange juice and big bowls of tea. Set up for the day we struck out for nearby Aldeburgh knowing that yet again our routes were subject to the geography of yet another of Suffolk's rivers, the Alde.
Off to Aldeburgh

We headed off again following the Suffolk Coastal Cycle route to Iken, an area of the coast that nestles in the bend of the river Alde as it makes a sharp right hand turn south, where it meets the coast cut off by the strange spit of land that is Orfordness. We stopped to count the hares tearing around in the vast Suffolk fields and to observe from the distance of a couple of miles the odd concrete structures on Orfordness, such as the pagodas scene of cold war nuclear tinkering. If the UK has an equivalent of area 51 then this strange little shingle spit has to be it.
On the way we called in at Iken church which sits up high above the shore at the far end of the estuary. Wifey claims never to have seen or noticed a thatched church before, but they are quite common through out East Anglia.

Next it was on to Aldebrugh and by the time we reached there it was midday and our breakfast was now but a memory. In reality we were heading for Jez's Dads fish and chip shop in Lieston about another four miles away. However, as we turned in to Aldebrugh High street the prevailing southerly wind blew the delicious smell of Aldebrugh's own and very famous fish and chip shop towards us. Having visited Aldebrugh many times in the past I had some previous experience with this establishment. Indeed Nanny Nicey and I feel sure that it used to be half way along the high street rather than at the far end as now. That aside, the basics are as follows; local caught fish travels a stone's throw from the boats to the friers where its coated in a bubbly crunchy batter and served with chips made from very flavoursome potatoes. There are no pies/ sausages/savaloys/ burgers just fresh fish and chips. I joined the some dozen people long queue waiting for the shop to open. Owned and operated by the Cooney family since 1966, it's not unknown for some people to turn up with a chilled bottle of Champagne to accompany their meal. This part of the coast is well known for its various flat fish so Wifey and I made off with two portions of Plaice and Chips strapped to the backs of our bikes and headed the short distance to the beach.

As we sat feasting, seagulls of various sizes and descriptions appeared and started mooching about on the shingle in front of us being careful to stay facing into the same wind that brought the smell of the fish and chip shop wafting towards us. Any that did turn around had their feathers blown back in various uncomfortable directions and quickly spun around again keeping an eye on every errant chip and piece of batter that unfortunately fell from our grasp.
By now other lunch-time fish and chip eaters without the benefit of bicycles had arrived at our bit of the sea front and had begun to take the pressure off of us. So I created tension of another kind by getting out the Trangia. Apparently I drew an appreciative "Look he's having a brew up" from one passing retired couple.

Two bowls of tea later we headed up the coast towards the very individual Thorpeness, pausing briefly to buy some Dover Sole for tea from one of the many fish stalls on the beach front. Perhaps the most famous feature of Thorpeness is the seven story high house in the clouds. Looking like a cross between a weather board cottage and a sky scraper it hides within a water tower. Originally part of the water supply system for the village which was largely created by Ogville family at the turn of the twentieth century as a holiday park, with boating lake, golf course and a variety of quirky buildings. Peter Pan writer J M Barrie was a friend of the Ogvilles and many locations within Thorpeness are linked with Peter Pan. Again our friend Jez used to live there as a little boy, which he rates highly.

When we arrived back at our tent via Snape Maltings and a shortcut through Tunstall Forest we were in need of more tea and fruitcake, which we followed up later with spicy tomato sauce with local broad beans and Dover sole fried in butter on the Trangia. By now Wifey had grown accustomed to Trangia catering miracles.

We left High House farm the next morning with two bottles of their delicious pressed apple juice.
Here comes the rain again


Indeed Annie Lennox here it comes. The rain had managed to hold off for the last two days despite the weather men saying it was going to be dreadful. As we cycled down the coast to Bawdesey ferry, we managed to stay dry. We bought a huge crab when we reached the other side and had a proper mug of tea at the ferry cafe, to wash down our bacon rolls and cheese toasties. Then up to the station to eat fruitcake on the platform while waiting for the train.

By the time we made it back to Cambridge the heavens had opened and I got to don my new extremely yellow Dutch cycling cape, for the last few miles home. Many parts of the country were now experiencing flash flooding. As we plied our way through the drenched rush hour commuters Wifey decided that perhaps the weekend would be usefully spent digging that pond we had been putting off for the last three years.